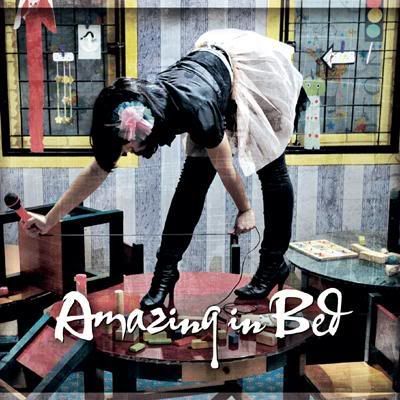 She do modern, she do vintage
She dress to kill and not her age
She do her weekend without make-up
She's disco bar and not lame pub
The girl do riot
The girl is riot
The girl do riot
The girl is riot
She's riot girrrl … Go!
Reff:
Music and fashion
She does with destruction
She's classic indigo
Hey Ho Lets Go!
Music and fashion
She does with destruction
She's classic indigo
Hey Ho Lets Go!
A feminist and vocalist
She mix and match like an artist
She got the brains she's not insane
She's your clanirous rebel friend
yapz sekian saLah satu Lyric dari amazing in bed. kaLian pasti dah pada tau, karena band ini yah Lumayan Lama sih, hehehe gw juga ga begitu tau sebenar nya kapan band ini memuLai karir.
cuman waktu itu gw di kasi denger ama temen gw, katanya Lagu nya asik. dan apa yang dia biLang bener aja, emank Lagu nya menurut gw ber genre Punk rock, setiap isi dari Lagu nya menceritakan kekerasan kaum wanita jaman sekarang. yah seperti Lyric di atas, hoho...
ehm bagi kaLIan yang penasaran ama ni Lagu, yaa biasaLah cari aja duLu di googLe, atau di 4shared.com pasti ada toh,. hehe maap gw bLOm sempet nih mo bikin Link DownLoad nya. mungkin nyusuL ntar ye, hehehe..
band ini di gawangi oLeh Vembi wirasemba ngedebuk drum, ALdin haekaLani guitar, Lani LeyLi di bagian vocaL, Nicko Krisna guitar, dan terakhir di posisi bass adaLah Pondra Novara,.komposisi musik mreka ringan, asik untuk di denger oLeh kaLangan muda sekarang, dan ga susah untuk di mengerti untuk setiap Lyric nya. band ini ter infLuence oLeh radiohead.
emm, kata2 gw yang trakhir nih, dari semua Lagu ini gw paLing suka yang juduL nya Huru-Hara, N My kick ass Lover,.. hoho,.. Lagu ini mengingatkan gw waktu jadi anak punk,. haha, sebenar nya ga nyambung sih, tapi aura semangat Punkers nya kerasa banget,...
yah gw rasa, cukup ini aja dah yang gw ketahui dari amazing in bed, karena gw juga baru tau ni Lagu N ga terLaLu gimanaa gitu dengan aLiran band kea gini,. hehe gw tetep pada prinsip gw yang sekarang,. Gothic the siLent,. haha,...